Note: This post is a perfect compliment to my post from several months back of "Which Milk Brand is the Best?"
I have had an addiction to fast food cookies since college, where these delicious sugary snacks (and chocolate milk) would keep me awake even through even the most boring of economics lectures. I have been particularly loyal to one brand in particular, but I felt that I needed to thoroughly examine the other options to see if I was missing out on even better cookies.
Fast Food Cookies Evaluated:
McDonald's
Subway
Jack in the Box
Taco Del Mar
The following stores do not sell cookies, at least in Seattle: Burger King, K.F.C (even though it's on their nutrition guide), Wendy's, Taco Time.
Evaluation Process:
Each store's standard would be judged by the all-time, most popular favorite cookie: the chocolate chip.
Each cookie would be eaten as received from the store, and then heated at home later.
Three Judging categories: Taste, Texture, and Value/Price
First contender: McDonald's
Taste: Highly Variable.
I have had cookies from McD's that have tasted horrible, while freshly baked cookies taste much better.
Texture: Medium, not too dry or crumbly
Value: Good
3 cookies for $0.99 was the cheapest option. The cookies were small, but not too small.
$.33 each.
Second contender: Subway
Taste: GREAT.
Subway has so many types of cookies, you can find one that you will like. Almost all of them taste great.
Texture: Dry/Dense, but not crumbly.
These cookies do not need milk to make them enjoyable, but they are definitely better with milk (as is any cookie).
Value: The largest cookies were also priced on the higher end. Value is justified for the quality of cookie provided.
$0.59 each.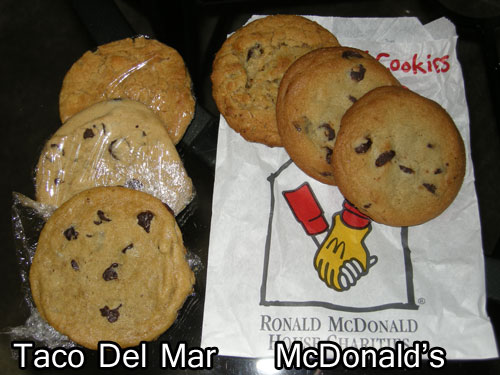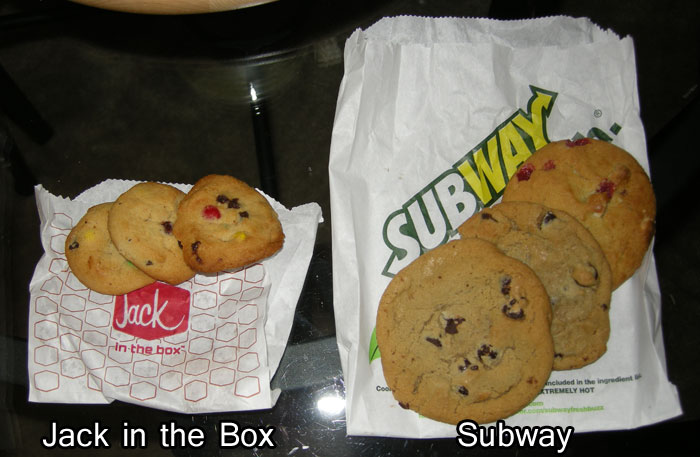 Third contender: Jack in the Box
I  had high hopes for these delicious looking M&M cookies (only type available, for a limited time). I even bought a second batch from a different store to try and see if they could be as delicious as pictured.
Taste: CARDBOARD.
These were so vile tasting that I could not finish more than one of these tiny cookies.
Texture: Warm, Chewy.
This is the only part that they got right.
Value: 5 MINI cookies for $1.00 would be a great value, if they didn't taste so bad.
$.20 each.
Fourth contender: Taco Del Mar
Taste: "Boxed, store bought"
The taste wasn't bad per say, but I could run to Safeway and buy a container full of these for $1 -3.
Texture: Dry, crumbly.
Definitely needs some milk to go with them.
Value: Good
1 for $.59 or 2 for $0.89 and they're an average sized cookie.
Bonus Category: Free Cookies
Subway offers a free cookie in exchange for filling out a less than 5-minute survey about your experience in their store. No other store offers free cookies.
Bonus Category: Variety of Cookies
Subway by far offers the most variety of cookies. McDonald's is limited to 3 types, and most stores don't have all 3 available. Jack in the Box only has 1 type. Taco Del Mar will have 2 or 3 varieties depending on the stores I've been to. Subway will typically have several types available for me to choose from: chocolate chip, chocolate with M&M, white chocolate macadamia, dark double chocolate chip, oatmeal raisin, and sometimes sugar cookies, peanut butter, or other special flavors like the current raspberry cheesecake.
Bonus Category: Having cookies ready for purchase
I have rarely walked into a Subway and been unable to buy cookies. I cannot say the same for McDonald's and Taco Del Mar rarely has more than a handful of cookies ready for sale.
THE BEST COOKIES ARE: SUBWAY.
Hands down, Subway can consistently beat out the other fast food restaurants at selling delicious tasting cookies. I survived through many group projects powered by Subway cookies, and I will continue to enjoy them when I get a chance.
Anyone else agree?